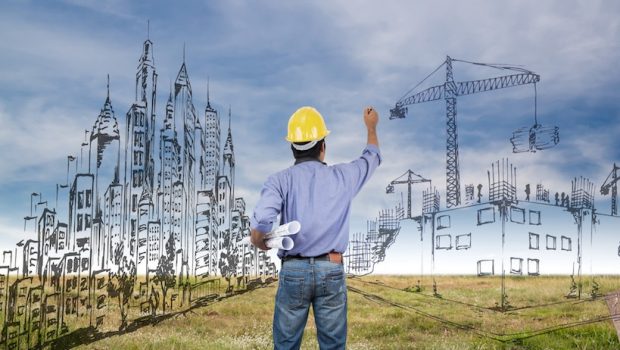 As more and more technological advances come to light, one thing we'd like to wonder is how does this affect construction? With everything from AI to autonomous vehicles in mind, how will we see the construction industry take advantage of such advances? Keep reading for construction tech game changers we can expect to see in the coming years.
Modernizing the Construction Industry
Some companies are simply looking to modernize the construction industry. Although not quite as flashy as drones or other tech, it's a necessary step for the industry.
Buildup, for example, is working on cross-platform software with the intent to help developers, contractors, and property managers identify and resolve tasks and issues related to a project. The goal is to move them away from handwritten and printed documents, and instead keep to-dos and other important information stored in a cloud-based location. The idea was popular enough to raise $7 million.
BuildingConnected is working hard to grow its bid procurement platform for building contractors. So maybe we'll see something like the Uber for construction contractors in the near future? Quite likely, because they've snagged $22 million to work on the project.
Built Technologies is also looking to modernize the industry by "bring[ing] construction lending into the digital age." It'll be interesting to see how they'll revolutionize construction lending, especially with $21 million in funding behind them.
Zillow Group acquired New Home Feed recently, making it easier for builders to market newly constructed homes. So, once all the work is all said and done, it'll be easier to sell properties themselves.
The Big Stuff
Beyond the advances in software are some serious tech advancements. Think drones, AI, and autonomous vehicles.
What About Drones?
Drones are already starting to play a part in the construction industry. They work to automate and capture imagery from work sites. And the future looks bright for these aerial vehicles. Industrial drone company Kespry has raised $33 million from major companies like Cisco Investments, Shell Technology Ventures, and Lightspeed Venture Partners, so we'll certainly see some continued advancement from this form of technology.
Artificial (Intelligence) is Okay
There are a number of potential benefits to be gained by incorporating artificial intelligence (AI) in your construction day-to-day. Overall, it's more efficient due to increased automation and reduced equipment downtime. It's also safer.
Benefits are both long-term and short-term. Over time, the AI will improve and better fit your company's needs. In the short-term, however, you'll see increased automation and better location tracking of equipment and materials.
Further, you'll always be able to ensure properly functioning equipment. If any equipment is faulty, it can be immediately serviced. This not only keeps your equipment in good running order, but protects employees from potential accidents.
Autonomous Vehicles and Equipment
We're some ways away from self-driving cars, but automated factory equipment already exists. Perhaps automated construction equipment and vehicles are next? It will save construction companies money on labor and keep employees safer (construction vehicles and machinery can be quite dangerous). And considering two-thirds of contractors are having a hard time finding skilled labor, it can be the answer to labor shortages, as well.
It may also improve your project timeline. Self-driving equipment can function 24 hours a day through a variety of working conditions, shrinking the time required on a construction project.
What Do You Predict the Future of Construction to Look Like?
Drones, autonomous vehicles, AI, oh my. There's plenty technological advances that may change the construction landscape in the next few years. Which tech do you think will be most revolutionary? Which did you find most interesting? Do you think there's anything we missed? Let us know in the comments below.
10327 Chandler Circle Suite #200
La Vista, NE 68128-3258